This is a recipe that I made up as I went LOL. I had gotten a BUNCH of Johnsonville chipotle and monterey jack chicken sausage because I got it for $.99 each. Everyone loved it and I have made it several times since.
Ingredients:
2 cups uncooked rice
1 package Johnsonville chipotle and monterey jack chicken sausage, sliced
1 cup corn
1 can black beans, drained
2 cans tomato sauce
1 can rotel, drained
1/4 c onion, diced
salt
pepper
cumin
chili powder
Directions:
Cook rice in separate pot according to directions on package. This should yield 4 cups of cooked rice. Do all other steps while the rice is cooking.
Use a skillet to cook the sausage and onion about 5-10 mins.
Once the sausage is cooked add the corn, beans, rotel, and tomato sauce.
Add salt, pepper, cumin, and chili powder, all to taste (can add more or less to change how hot/spicy you would like it)
Stir and bring to a simmer.
When the rice is done, pour everything in the skillet over the rice and stir.
Serve and enjoy.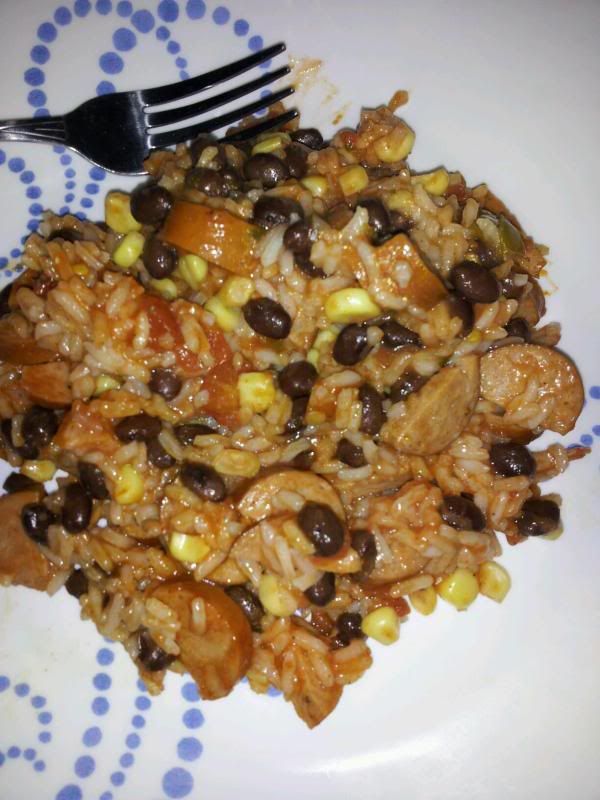 Enjoy ~